The pattern of community empowerment after complete systematic land registry (PTSL)
Keywords:
Complete Systematic Land Registry, community empowerment, community participation
Abstract
This paper aims to determine the appropriate community empowerment strategy after the achievement of the activities of Complete Systematic Land Registry (PTSL). This research was conducted using descriptive method that explained the pattern of community empowerment that could be done after the activities of PTSL. The government had increased the target of land certificate issuance through PTSL. Communities that had received the certificates were still faced with the problem of limited business. Community empowerment efforts needed to be done through capital access assistance, technical and managerial guidance and marketing.. Land certificates that had been accepted by the community could be used for access to capital through various business schemes. Technical and managerial guidance was provided by the relevant technical institutions. While product marketing was assisted by local government and related institutions. Broadly speaking, the typology of the recipient community of the PTSL certificate that needed to be empowered was the urban community, the rural area and the coastal area. The pattern of community empowerment in each region should have considered the business potential, knowledge and skills of the community as well as the marketing network. Community participation should have be involved in every stage of community empowerment activities.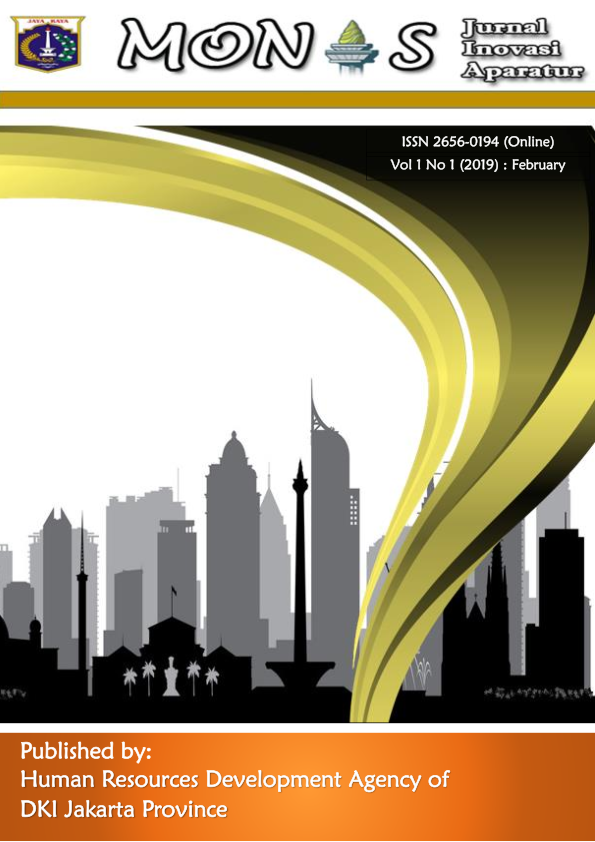 This work is licensed under a Creative Commons Attribution-NonCommercial-ShareAlike 4.0 International License.
Penulis yang mempublikasikan artikel pada Monas: Jurnal Inovasi Aparatur ini setuju dengan ketentuan sebagai berikut:
Hak cipta dari suatu artikel akan ditransfer ke Monas: Jurnal Inovasi Aparatur ketika artikel diterima untuk publikasi. Transfer cipta mencakup hak eksklusif untuk mereproduksi dan mendistribusikan artikel, termasuk mencetak ulang, menerjemahan, reproduksi fotografi, mikrofilm, bentuk elektronik (offline atau online), atau reproduksi lain yang sejenis.
Penulis menjamin bahwa isi artikel adalah asli dan bertanggung jawab penuh atas hak cipta dari bagian-bagian yang dikutip dari artikel yang dari sumber asli lainnya.
Ketika penulis meng-upload artikel pada suatu website tertentu, penulis harus menjelaskan bahwa sumber artikel adalah Monas: Jurnal Inovasi Aparatur adalah pemegang hak cipta, dan harus membuat link ke situs jurnal: https://ejournal-bpsdm.jakarta.go.id/index.php/monas/