The effect of case study learning methods on the learning outcomes of national insight of the Republic of Indonesia
Keywords:
learning method, case study, national insight
Abstract
This study aims to determine the influence of case study learning methods on the learning outcomes of the subject matter of National Insight. This research uses quantitative method. The sampling technique used is simple random sampling with a total sample of 60 participants consist of 30 experimental class participants and 30 control class participants. The data collection technique uses the pre-post test and uses Microsoft Excel 2013 in the form of a t-test. Based on the results of testing using the t-test, it is confirmed that the results of testing in the experimental class and control class obtained t-count of 2.397 and t-table with a significance level of 0.05 with df (n-2) = 58 is 2.02. The calculation shows that t-count (2.397) is greater than t-table (2.02). Thus, it can be concluded that H0 is rejected and H1 is accepted. In addition, this study shows that there is an influence between the case study as the learning method variable towards the results of National Insight subject. In summary, this study concludes that the learning method using a case study model affects the learning outcomes of National Insight subject.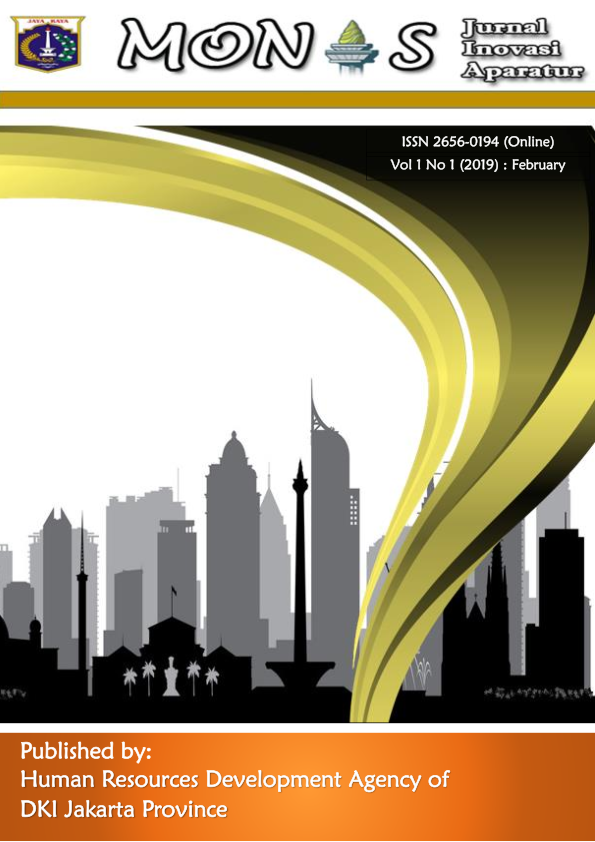 This work is licensed under a Creative Commons Attribution-NonCommercial-ShareAlike 4.0 International License.
Penulis yang mempublikasikan artikel pada Monas: Jurnal Inovasi Aparatur ini setuju dengan ketentuan sebagai berikut:
Hak cipta dari suatu artikel akan ditransfer ke Monas: Jurnal Inovasi Aparatur ketika artikel diterima untuk publikasi. Transfer cipta mencakup hak eksklusif untuk mereproduksi dan mendistribusikan artikel, termasuk mencetak ulang, menerjemahan, reproduksi fotografi, mikrofilm, bentuk elektronik (offline atau online), atau reproduksi lain yang sejenis.
Penulis menjamin bahwa isi artikel adalah asli dan bertanggung jawab penuh atas hak cipta dari bagian-bagian yang dikutip dari artikel yang dari sumber asli lainnya.
Ketika penulis meng-upload artikel pada suatu website tertentu, penulis harus menjelaskan bahwa sumber artikel adalah Monas: Jurnal Inovasi Aparatur adalah pemegang hak cipta, dan harus membuat link ke situs jurnal: https://ejournal-bpsdm.jakarta.go.id/index.php/monas/