Preserving small lakes, lakes, public ponds, and reservoirs as state property through land registration
Hadi Arnowo

PPSDM Kementerian ATR-BPN
Keywords:
land status, ownership boundaries, rights holders
Abstract
The existence of small lakes, lakes, public ponds, and reservoirs for the Indonesian people is significant and has been used for various basic needs. The conditions of small lakes, lakes, public ponds and reservoirs generally show negative tendency namely pollution, silting, environmental damage and even some of them have been shifted function to land. This study aims to determine the importance of land registration for small lakes, lakes, public ponds, and reservoirs. The research method is descriptive qualitative. Data was collected through field observation for several samples and secondary data collection for several cases. Furthermore, the data are analyzed empirically by referring to the regulations and practices of the policy. The results obtained indicate that the sustainability of situ, lakes, reservoirs, and reservoirs (SDEW) is disturbed due to human activities. Land registration is one of the efforts to protect the existence of these public water areas. However, not all public water areas can be registered because of their land status. The area of ​​public water to be registered includes the surface area of ​​the water and its buffer zones. The stages of land registration for the area, lakes, reservoirs, and reservoirs are generally the same as for other land registrations. Following the registration of land for the territorial waters, the holder of land rights must actively maintain the control boundary and monitor the physical condition of the lake, reservoirs, and reservoirs from illegal exploitation efforts. In addition, the Government and Regional Governments must be able to raise community participation in maintaining territorial waters and establish cooperation with other parties related to the provisions governed by laws and regulations. This study concludes that land registration for the SDEW area is beneficial due to the improved management, monitoring, and maintenance system through the availability of accurate data and the strong legal basis.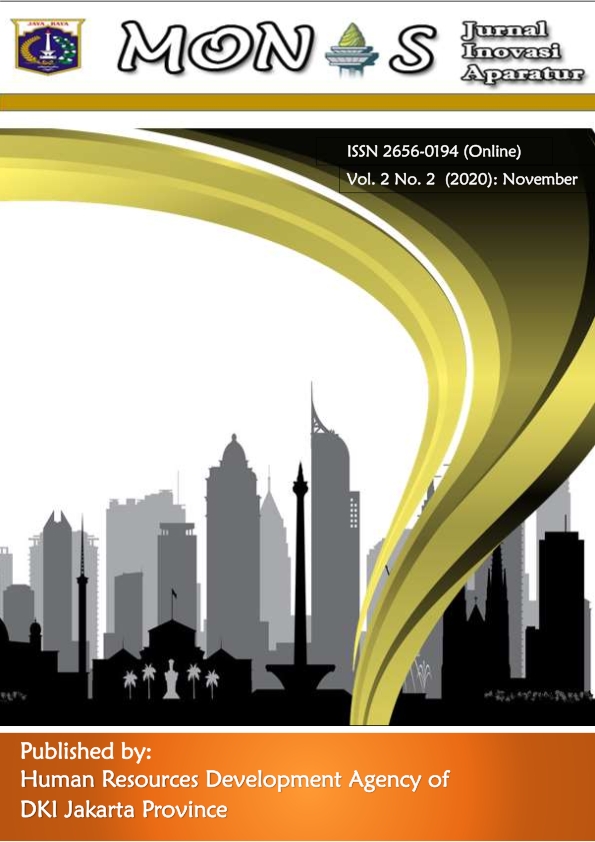 Copyright (c) 2020 Monas: Jurnal Inovasi Aparatur
This work is licensed under a Creative Commons Attribution-NonCommercial-ShareAlike 4.0 International License.
Penulis yang mempublikasikan artikel pada Monas: Jurnal Inovasi Aparatur ini setuju dengan ketentuan sebagai berikut:
Hak cipta dari suatu artikel akan ditransfer ke Monas: Jurnal Inovasi Aparatur ketika artikel diterima untuk publikasi. Transfer cipta mencakup hak eksklusif untuk mereproduksi dan mendistribusikan artikel, termasuk mencetak ulang, menerjemahan, reproduksi fotografi, mikrofilm, bentuk elektronik (offline atau online), atau reproduksi lain yang sejenis.
Penulis menjamin bahwa isi artikel adalah asli dan bertanggung jawab penuh atas hak cipta dari bagian-bagian yang dikutip dari artikel yang dari sumber asli lainnya.
Ketika penulis meng-upload artikel pada suatu website tertentu, penulis harus menjelaskan bahwa sumber artikel adalah Monas: Jurnal Inovasi Aparatur adalah pemegang hak cipta, dan harus membuat link ke situs jurnal: https://ejournal-bpsdm.jakarta.go.id/index.php/monas/