The Effectiveness of public ethics online learning in basic training for civil servant candidates at BSSN training center
Agus Kurniati

National Cyber and Crypto Agency
Keywords:
effectiveness, online learning, public ethics, basic training
Abstract
This study aims to determine the effectiveness of Public ethics online learning in Basic Training for Civil Servants Candidates Group III Batch 8 at BSSN Training Center. This study was a case study research. The data was collected using interviews, observation, assignment sheets, and questionnaires. The learning effectiveness indicator was all participants get a minimum post-test score of 80, and at least 80% of the total participants have a high or very high perception of the learning effectiveness. The research sample was all participants of Basic Training for Civil Servants Group III Batch 8 with a total number of 40 people. The data analysis used is descriptive analysis techniques. The result shows that the pre-test means score is 77.80, and the post-test mean score is 88.38, indicating an increase of 13.6%. Based on the questionnaire result, it is found that the online learning method of Public Ethics in Basic Training for Civil Servants Candidates Group III Batch 8 is effective in achieving the learning objective. The strength of online learning is that it facilitates participants to be more active in understanding the material, more flexible because it can be performed anywhere, while the weakness is that participants do not experience direct learning in class, thus the delivery of the values ​is less optimal. Online learning of Basic Training for Civil Servants Candidates with all its strengths and weaknesses is considered useful in achieving learning objectives. Therefore it can be continued in both new normal and normal conditions.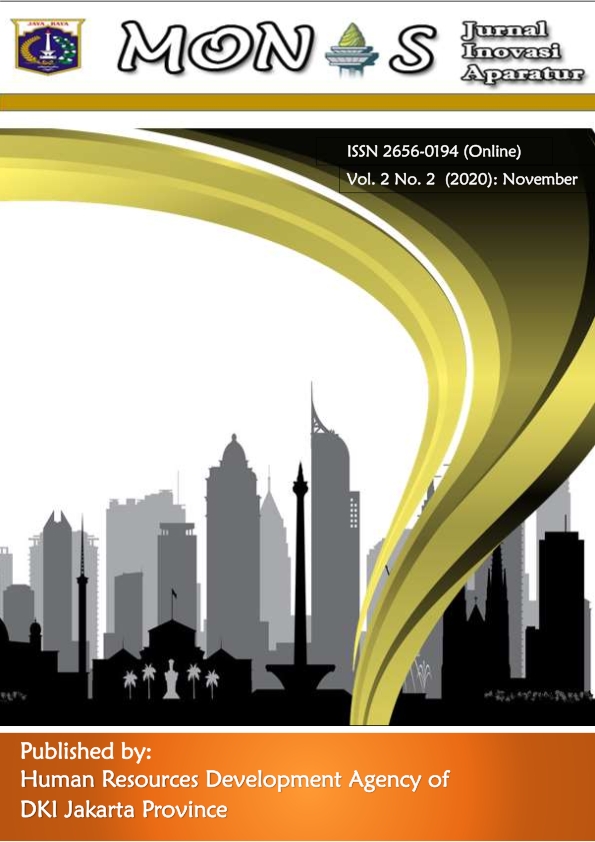 Copyright (c) 2020 Monas: Jurnal Inovasi Aparatur
This work is licensed under a Creative Commons Attribution-NonCommercial-ShareAlike 4.0 International License.
Penulis yang mempublikasikan artikel pada Monas: Jurnal Inovasi Aparatur ini setuju dengan ketentuan sebagai berikut:
Hak cipta dari suatu artikel akan ditransfer ke Monas: Jurnal Inovasi Aparatur ketika artikel diterima untuk publikasi. Transfer cipta mencakup hak eksklusif untuk mereproduksi dan mendistribusikan artikel, termasuk mencetak ulang, menerjemahan, reproduksi fotografi, mikrofilm, bentuk elektronik (offline atau online), atau reproduksi lain yang sejenis.
Penulis menjamin bahwa isi artikel adalah asli dan bertanggung jawab penuh atas hak cipta dari bagian-bagian yang dikutip dari artikel yang dari sumber asli lainnya.
Ketika penulis meng-upload artikel pada suatu website tertentu, penulis harus menjelaskan bahwa sumber artikel adalah Monas: Jurnal Inovasi Aparatur adalah pemegang hak cipta, dan harus membuat link ke situs jurnal: https://ejournal-bpsdm.jakarta.go.id/index.php/monas/