Study of proposed activities in development of BUMD for regional development
Yurianto Yurianto

BPSDM Provinsi DKI Jakarta
Keywords:
BUMD, regional equity participation, development, regional government
Abstract
There are still very few regulations governing the development of BUMD, even though the role of BUMD in regional development is very central. The role of BUMD is very strategic in the regional economy and development. One of these studies focuses on describing the function of BUMD in regional development. While the analytical methods used are APKL, USG, and Mc. Namara methods. In this study, the strategic issue in fostering the selected BUMDs is the lack of comprehensive governance of Regional Equity Participation (PMD) in BUMDs. Of the selected strategic issues, the solution is the preparation of Regional Regulations related to PMD governance. On this basis, five activities are proposed to support the realization of governance of regional capital participation, including the preparation of an academic draft study of regional regulations on the governance of regional equity participation in BUMD. From the results of the analysis, it is suggested that considering that BUMD belongs to the regional government and contains a high dose of politics, the PMD process requires a political approach in addition to a systematic technocratic approach.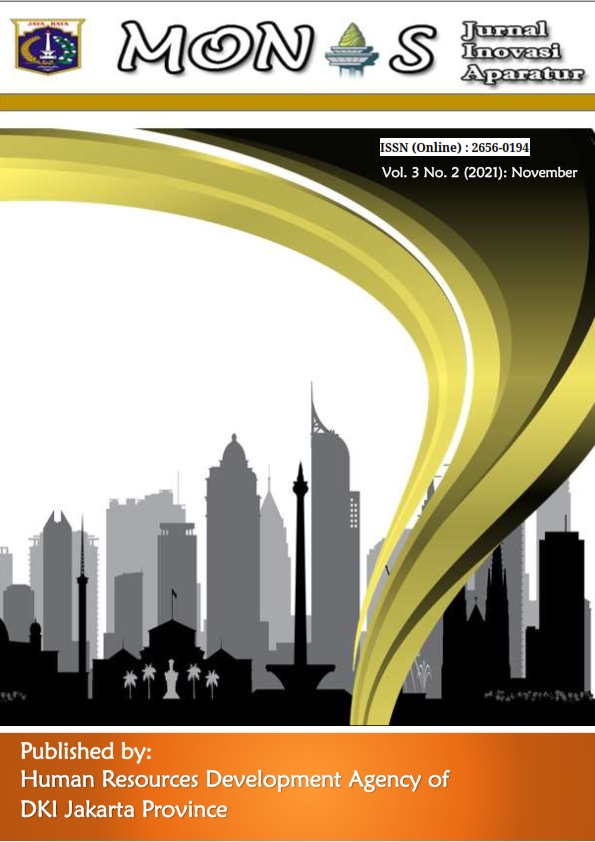 Copyright (c) 2021 Monas: Jurnal Inovasi Aparatur
This work is licensed under a Creative Commons Attribution-NonCommercial-ShareAlike 4.0 International License.
Penulis yang mempublikasikan artikel pada Monas: Jurnal Inovasi Aparatur ini setuju dengan ketentuan sebagai berikut:
Hak cipta dari suatu artikel akan ditransfer ke Monas: Jurnal Inovasi Aparatur ketika artikel diterima untuk publikasi. Transfer cipta mencakup hak eksklusif untuk mereproduksi dan mendistribusikan artikel, termasuk mencetak ulang, menerjemahan, reproduksi fotografi, mikrofilm, bentuk elektronik (offline atau online), atau reproduksi lain yang sejenis.
Penulis menjamin bahwa isi artikel adalah asli dan bertanggung jawab penuh atas hak cipta dari bagian-bagian yang dikutip dari artikel yang dari sumber asli lainnya.
Ketika penulis meng-upload artikel pada suatu website tertentu, penulis harus menjelaskan bahwa sumber artikel adalah Monas: Jurnal Inovasi Aparatur adalah pemegang hak cipta, dan harus membuat link ke situs jurnal: https://ejournal-bpsdm.jakarta.go.id/index.php/monas/