Predictor of purnawidya performance post training of wound care blended learning method in DKI Jakarta
Haerani Idah

BPSDM Provinsi DKI Jakarta
Keywords:
Wound care, diabetes, training, purnawidya performance
Abstract
The COVID-19 pandemic situation has hampered wound care services. Apart from contact restrictions, patient and family anxiety to visit hospitals and health workers having diabetic wound care skills are still inadequate. Only 1 unit of First Level Health Facility (FKTP) has succeeded in developing a diabetic wound care polyclinic; thus, the percentage of diabetic wound sufferers who receive standard services is only 1 percent. This study aims to determine predictors of graduate performance after wound care training with blended learning methods in Jakarta Province in 2021. Descriptive quantitative method using a cross-sectional approach and primary data were collected using structured questionnaire survey technique. The study was carried out from August to September 2021. The population was all 44 graduates of wound care training with the blended learning method. The result shows that the correlation value (r) between age and performance score was 0.43 with a P-value of 0.007. It means that there is a statistically significant relationship between age and the graduate performance score. There is also a significant relationship between motivation and performance scores, with the correlation value (r) between motivation scores and performance scores of 0.37, P-value of 0.020. The dominant factor that affects graduate performance is motivation, with a P-value of 0.02. The magnitude of the variation that affects the dependent variable is 0.129, meaning that the motivation variable can explain 12-13 percent of the variation in the graduate performance score.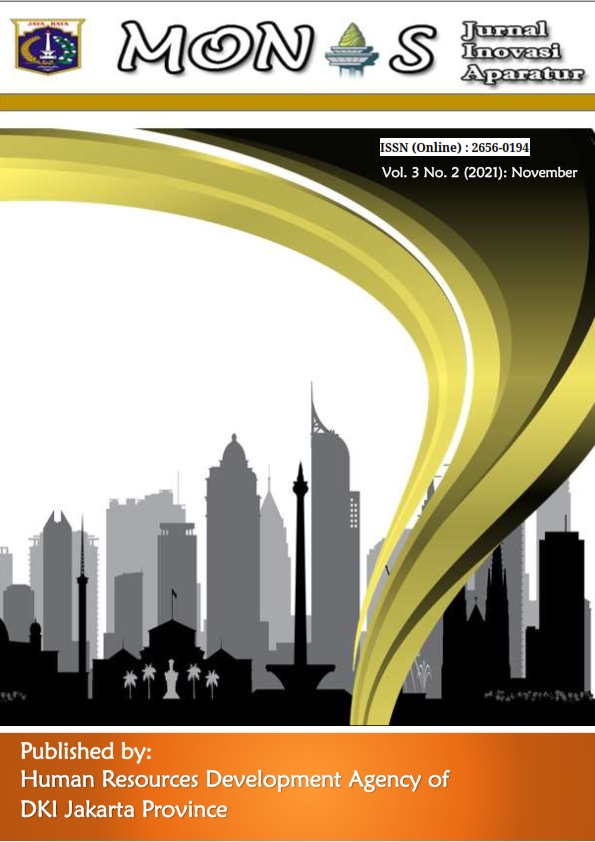 Copyright (c) 2021 Monas: Jurnal Inovasi Aparatur
This work is licensed under a Creative Commons Attribution-NonCommercial-ShareAlike 4.0 International License.
Penulis yang mempublikasikan artikel pada Monas: Jurnal Inovasi Aparatur ini setuju dengan ketentuan sebagai berikut:
Hak cipta dari suatu artikel akan ditransfer ke Monas: Jurnal Inovasi Aparatur ketika artikel diterima untuk publikasi. Transfer cipta mencakup hak eksklusif untuk mereproduksi dan mendistribusikan artikel, termasuk mencetak ulang, menerjemahan, reproduksi fotografi, mikrofilm, bentuk elektronik (offline atau online), atau reproduksi lain yang sejenis.
Penulis menjamin bahwa isi artikel adalah asli dan bertanggung jawab penuh atas hak cipta dari bagian-bagian yang dikutip dari artikel yang dari sumber asli lainnya.
Ketika penulis meng-upload artikel pada suatu website tertentu, penulis harus menjelaskan bahwa sumber artikel adalah Monas: Jurnal Inovasi Aparatur adalah pemegang hak cipta, dan harus membuat link ke situs jurnal: https://ejournal-bpsdm.jakarta.go.id/index.php/monas/