The effectiveness of games learning method in national defense preparedness subject on basic training for civil servant candidates
Des Indri Prihantony

BPSDM Prov. Sumatera Barat
Keywords:
state defense preparedness, basic training for civil servant candidates, learning methods, games
Abstract
The selection of suitable learning methods will determine the success of a learning process. In the state defense preparedness training program, games are one of the methods used to achieve learning objectives through the use of playful media. This study aims to assess the effectiveness of this learning method and the factors supporting the effectiveness. The study was conducted on participants in Basic Training for Civil Servants Candidates in 2019 in West Sumatra Province through the distribution of questionnaires online. The results showed that 98.8 % of respondents considered that this method was effective.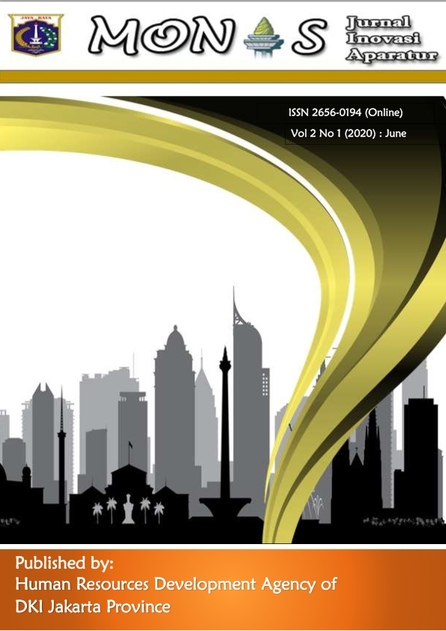 Copyright (c) 2020 Monas: Jurnal Inovasi Aparatur
This work is licensed under a Creative Commons Attribution-NonCommercial-ShareAlike 4.0 International License.
Penulis yang mempublikasikan artikel pada Monas: Jurnal Inovasi Aparatur ini setuju dengan ketentuan sebagai berikut:
Hak cipta dari suatu artikel akan ditransfer ke Monas: Jurnal Inovasi Aparatur ketika artikel diterima untuk publikasi. Transfer cipta mencakup hak eksklusif untuk mereproduksi dan mendistribusikan artikel, termasuk mencetak ulang, menerjemahan, reproduksi fotografi, mikrofilm, bentuk elektronik (offline atau online), atau reproduksi lain yang sejenis.
Penulis menjamin bahwa isi artikel adalah asli dan bertanggung jawab penuh atas hak cipta dari bagian-bagian yang dikutip dari artikel yang dari sumber asli lainnya.
Ketika penulis meng-upload artikel pada suatu website tertentu, penulis harus menjelaskan bahwa sumber artikel adalah Monas: Jurnal Inovasi Aparatur adalah pemegang hak cipta, dan harus membuat link ke situs jurnal: https://ejournal-bpsdm.jakarta.go.id/index.php/monas/