The role of mental revolution training on the improvement of civil servant professionalism in public services in DKI Jakarta Provincial Government
Keywords:
professional, mental revolution, public service
Abstract
The responsibility of State Civil Servant (ASN) has been clearly stated in the ASN Law. Furthermore, it is also regulated in Government Regulations concerning Employee Discipline. Nonetheless, there is still negative stigma in the implementation and the community judgement, such as laziness in work, money orientation in completing administrative service tasks, misunderstanding of the main duties and functions of the employees, breaking the regulation and looking for shortcuts to achieve goals in gaining positions and even worse, performing corruption. This paper discusses the idea of the role of mental revolution training to become more productive and professional ASN. The mental revolution training is a concrete step in shaping the mental of professional public servants. The subjects of public service mental revolution training material refers to how an ASN should have perspective, way of thinking and working thus that it is likely expected that the training could improve the professionalism of ASN as public servants.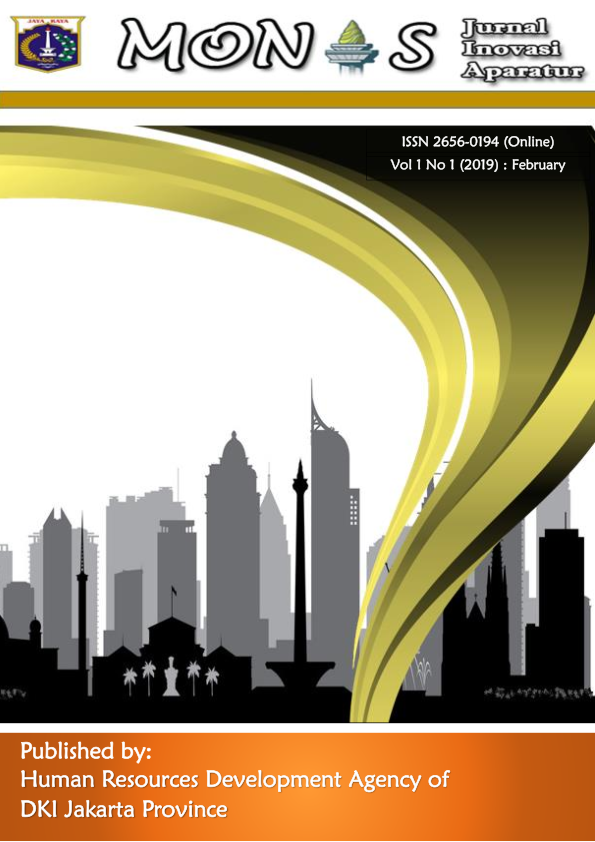 This work is licensed under a Creative Commons Attribution-NonCommercial-ShareAlike 4.0 International License.
Penulis yang mempublikasikan artikel pada Monas: Jurnal Inovasi Aparatur ini setuju dengan ketentuan sebagai berikut:
Hak cipta dari suatu artikel akan ditransfer ke Monas: Jurnal Inovasi Aparatur ketika artikel diterima untuk publikasi. Transfer cipta mencakup hak eksklusif untuk mereproduksi dan mendistribusikan artikel, termasuk mencetak ulang, menerjemahan, reproduksi fotografi, mikrofilm, bentuk elektronik (offline atau online), atau reproduksi lain yang sejenis.
Penulis menjamin bahwa isi artikel adalah asli dan bertanggung jawab penuh atas hak cipta dari bagian-bagian yang dikutip dari artikel yang dari sumber asli lainnya.
Ketika penulis meng-upload artikel pada suatu website tertentu, penulis harus menjelaskan bahwa sumber artikel adalah Monas: Jurnal Inovasi Aparatur adalah pemegang hak cipta, dan harus membuat link ke situs jurnal: https://ejournal-bpsdm.jakarta.go.id/index.php/monas/