Efforts to improve learning outcomes for anti-corruption subjects with the cebperdis method in CPNS basic training
Irawadi TM

BPSDM Provinsi Kalimantan Barat
Keywords:
Anti Corruption, CEBPERDIS Method, CPNS
Abstract
Measured from age and level of education, West Kalimantan Provincial Civil Servant Basic Training Participants in 2019 include adults, therefore it is necessary to apply appropriate learning methods for adults in improving their learning outcomes. The learning method applied for the Anti-Corruption Training Course is the CEBPERDIS Method. The CEBPERDIS method is a learning method that is a combination of the Pictorial Lecture Method (CEB), the Assignment and Recitation Method (PER), and the Discussion Method (DIS), which is applied sequentially in a class, this method optimizes the function of the ears, eyes, mouth, hands, and brain to improve thinking power, comprehension, and memory, as well as improve speaking and creativity skills of each trainee. To determine how to improve the learning outcomes of anti-corruption training with the CEBPERDIS method for CPNS basic training participants, a level 2 action research was carried out using one group pretest-posttest design experimental research method with quantitative and qualitative approaches, data collection technique using a pre-test, post-test, and observation as well as data analysis technique with descriptive quantitative and qualitative methods. From the results of the study, it is known that the average increase in learning outcomes of the Anti-Corruption Training Course for CPNS Basic Training Participants after being taught by the CEBPERDIS method is 68.77% from the initial score of 59.81 to an average of 96.69. The Training Participants are very active and enthusiastic in participating in the learning and not sleepy and not sleeping so that the learning objectives can be achieved properly.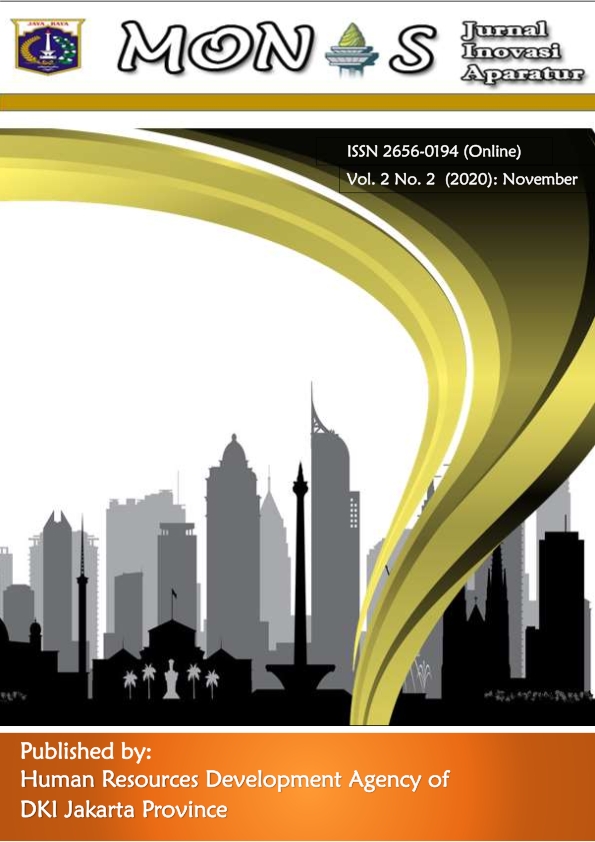 Copyright (c) 2020 Monas: Jurnal Inovasi Aparatur
This work is licensed under a Creative Commons Attribution-NonCommercial-ShareAlike 4.0 International License.
Penulis yang mempublikasikan artikel pada Monas: Jurnal Inovasi Aparatur ini setuju dengan ketentuan sebagai berikut:
Hak cipta dari suatu artikel akan ditransfer ke Monas: Jurnal Inovasi Aparatur ketika artikel diterima untuk publikasi. Transfer cipta mencakup hak eksklusif untuk mereproduksi dan mendistribusikan artikel, termasuk mencetak ulang, menerjemahan, reproduksi fotografi, mikrofilm, bentuk elektronik (offline atau online), atau reproduksi lain yang sejenis.
Penulis menjamin bahwa isi artikel adalah asli dan bertanggung jawab penuh atas hak cipta dari bagian-bagian yang dikutip dari artikel yang dari sumber asli lainnya.
Ketika penulis meng-upload artikel pada suatu website tertentu, penulis harus menjelaskan bahwa sumber artikel adalah Monas: Jurnal Inovasi Aparatur adalah pemegang hak cipta, dan harus membuat link ke situs jurnal: https://ejournal-bpsdm.jakarta.go.id/index.php/monas/