Factors influencing entrepreneurship success during covid-19 pandemic in Indonesia
Andrie Yuswanto

Universitas Negeri Jakarta

Usep Suhud

Universitas Negeri Jakarta

Dedi Purwana

Universitas Negeri Jakarta

Choirul Anwar

Universitas Negeri Jakarta
Keywords:
strategy, innovation, enterpreneurship, pandemic covid-19, experience
Abstract
The Covid-19 pandemic disaster in Indonesia has caused the economy to be the most affected sector. In order to provide solutions for the government in improving the economy through small and medium enterprises, an investigation on business and entrepreneurship solutions is required to support the economy. This study aims to analyze the determinants of entrepreneurial success when a disaster occurs, such as natural disasters, war, and the Covid-19 pandemic as it is today. Business experience, entrepreneurship education, innovation in business, and strategies to produce successful entrepreneurs, are variables that will be tested. The respondents are people who have had experience selling products online. Two hundred seventeen (217) respondents have participated in a questionnaire survey which was created and distributed online through social media. Data validity and data reliability were tested using the Windows SPPS 25.0 application, followed by analyzing data with Structural Equation Model (SEM) using the Windows Amos 23.0 application. The quantitative research results show that strategy affects entrepreneurial success; however, business experience, entrepreneurship education, and business innovation have not related to entrepreneurial success. The research analysis influences the importance of the strategies identified in dealing with a business to be successful. The contribution resulting from this research is how the small and medium enterprises should respond to their efforts in becoming successful entrepreneurs using good business strategies.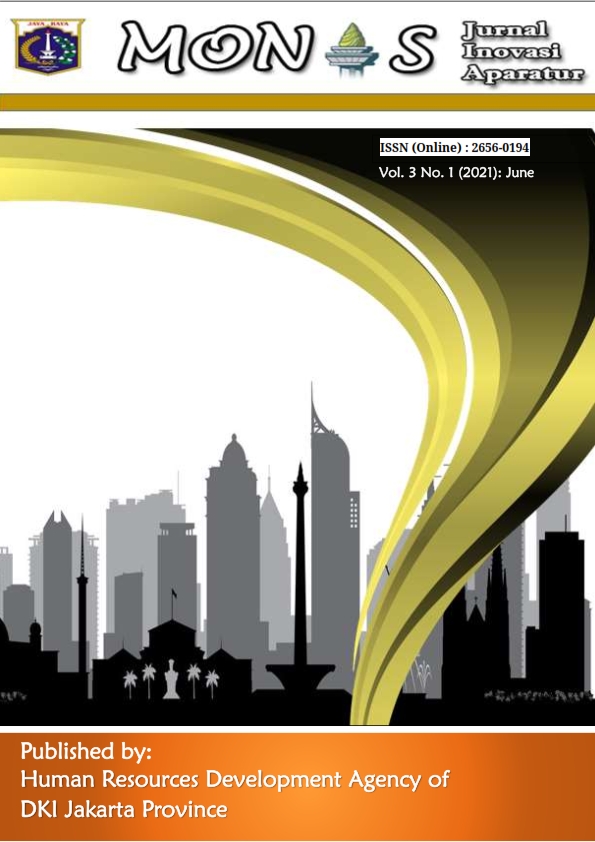 Copyright (c) 2021 Monas: Jurnal Inovasi Aparatur
This work is licensed under a Creative Commons Attribution-NonCommercial-ShareAlike 4.0 International License.
Penulis yang mempublikasikan artikel pada Monas: Jurnal Inovasi Aparatur ini setuju dengan ketentuan sebagai berikut:
Hak cipta dari suatu artikel akan ditransfer ke Monas: Jurnal Inovasi Aparatur ketika artikel diterima untuk publikasi. Transfer cipta mencakup hak eksklusif untuk mereproduksi dan mendistribusikan artikel, termasuk mencetak ulang, menerjemahan, reproduksi fotografi, mikrofilm, bentuk elektronik (offline atau online), atau reproduksi lain yang sejenis.
Penulis menjamin bahwa isi artikel adalah asli dan bertanggung jawab penuh atas hak cipta dari bagian-bagian yang dikutip dari artikel yang dari sumber asli lainnya.
Ketika penulis meng-upload artikel pada suatu website tertentu, penulis harus menjelaskan bahwa sumber artikel adalah Monas: Jurnal Inovasi Aparatur adalah pemegang hak cipta, dan harus membuat link ke situs jurnal: https://ejournal-bpsdm.jakarta.go.id/index.php/monas/