Servant leadership behavior
Case study of PKP alumni of BPSDM Province of DKI Jakarta in 2020
Nur Basuki

BPSDM Provinsi DKI Jakarta
Keywords:
leadership behavior, social practice, habitus, capital, arena
Abstract
This research is based on the reality of the high leadership achievements of the participants of the Supervisory Leadership Training (PKP) of the Human Resources Development Agency (BPSDM) of DKI Jakarta Province in 2020 and the length of change in one's leadership. This study aims to describe the servant leadership behavior of the alumni of Supervisory Leadership Training. This research departs from the perspective that leadership behavior is formed through social processes. The theory used as an analytical tool and to explain the leadership behavior of PKP alumni is the theory of social practice from Pierre Bourdieu. According to this theory, leadership behavior depends on the habitus, capital and arena of leaders. This qualitative research categorized as a case study was conducted on 19 purposively selected PKP alumni informants of the 2nd generation. Data were collected by written interview and analyzed by ideal type approach. Field findings show that the leadership behavior of alumni varies depending on the habitus formed, the capital they have and the arena that surrounds them. In conclusion, the informants have behaviors that are in accordance with the characteristics of servant leadership. Informants have a new leadership habitus and a confirmed habitus of the existing leadership practice. The informants also have a variety of capital in the form of social, cultural, economic and symbolic capital. Finally, there are two kinds of arenas owned by the informants, namely the arena of the Official Responsible for Technical Activities (PPTK) and the arena of the Budget User Authority (KPA). As a recommendation, this research is continued with a phenomenological approach to dig deeper into leadership serving the informants.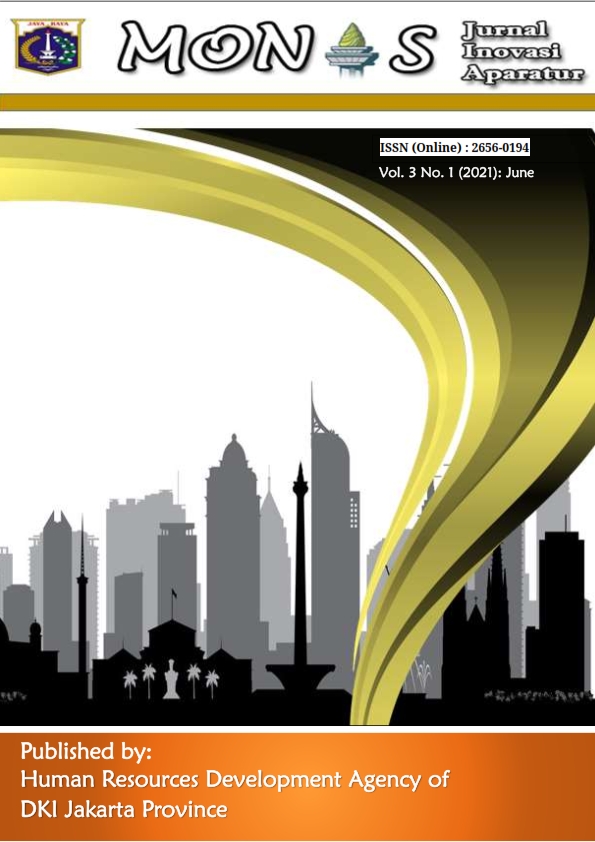 Copyright (c) 2021 Monas: Jurnal Inovasi Aparatur
This work is licensed under a Creative Commons Attribution-NonCommercial-ShareAlike 4.0 International License.
Penulis yang mempublikasikan artikel pada Monas: Jurnal Inovasi Aparatur ini setuju dengan ketentuan sebagai berikut:
Hak cipta dari suatu artikel akan ditransfer ke Monas: Jurnal Inovasi Aparatur ketika artikel diterima untuk publikasi. Transfer cipta mencakup hak eksklusif untuk mereproduksi dan mendistribusikan artikel, termasuk mencetak ulang, menerjemahan, reproduksi fotografi, mikrofilm, bentuk elektronik (offline atau online), atau reproduksi lain yang sejenis.
Penulis menjamin bahwa isi artikel adalah asli dan bertanggung jawab penuh atas hak cipta dari bagian-bagian yang dikutip dari artikel yang dari sumber asli lainnya.
Ketika penulis meng-upload artikel pada suatu website tertentu, penulis harus menjelaskan bahwa sumber artikel adalah Monas: Jurnal Inovasi Aparatur adalah pemegang hak cipta, dan harus membuat link ke situs jurnal: https://ejournal-bpsdm.jakarta.go.id/index.php/monas/