Designing knowledge management systems for extension rural community resilience activators in the Ministry of Village, Development of Disadvantaged Regions and Transmigration
Priyono Priyono

Ministry of Village Republic of Indonesia

Chamidun Daim

Ministry of Village Republic of Indonesia
Keywords:
Knowledge Management Systems, Rural Community Resilience Activator, Rural Extension Tacit and Explicit Knowledge
Abstract
Rural Community Resilience Activators (RCRA) as civil service servants within the Ministry of Village, Development of Disadvantaged Regions, and Transmigration (Ministry of Village, DDRT), with the specific competence and main task of the, included rural counseling, extension, and community training.  The RCRA's role and function have not been functioned optimally due to the absence of knowledge management in the field of counseling, extension, and community training. This assessment research has been conducted in April-May 2021, with the research aims to assess the design of knowledge management systems (KMS) to support optimal function of the RCRA in implementing activation and empowerment of Indonesian communities for the existence of developed and self-reliance villages as one priority mission of the Ministry of Village, DDRT.   The methodology used on this assessment is descriptive qualitative research, collecting data, relevant documents, and literature reviews related to Knowledge Management Systems (KMS) for the empowerment of rural communities in Indonesia. This assessment has resulted in a design concept of Information Technology-based KMS for rural extension supported optimal role of the Rural Community Resilience Activator in accelerating village development in Indonesia.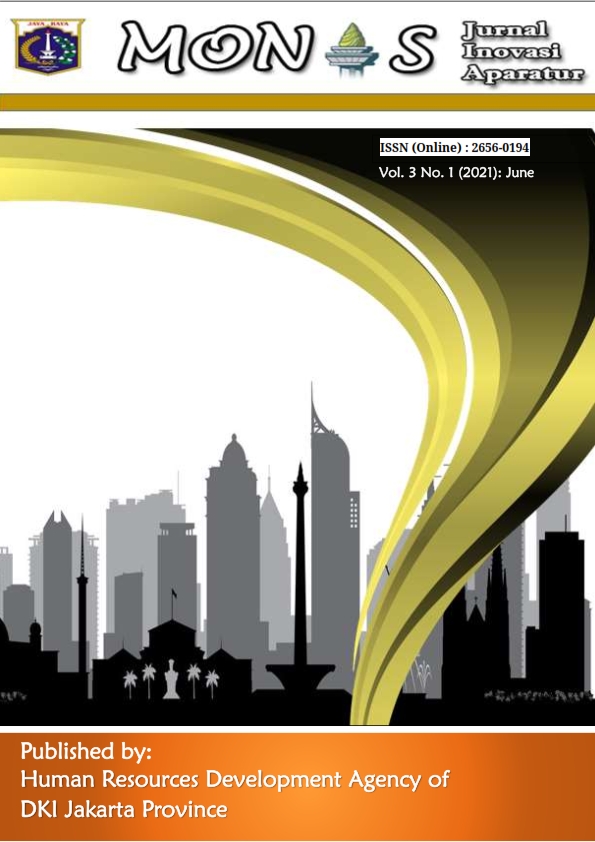 Copyright (c) 2021 Monas: Jurnal Inovasi Aparatur
This work is licensed under a Creative Commons Attribution-NonCommercial-ShareAlike 4.0 International License.
Penulis yang mempublikasikan artikel pada Monas: Jurnal Inovasi Aparatur ini setuju dengan ketentuan sebagai berikut:
Hak cipta dari suatu artikel akan ditransfer ke Monas: Jurnal Inovasi Aparatur ketika artikel diterima untuk publikasi. Transfer cipta mencakup hak eksklusif untuk mereproduksi dan mendistribusikan artikel, termasuk mencetak ulang, menerjemahan, reproduksi fotografi, mikrofilm, bentuk elektronik (offline atau online), atau reproduksi lain yang sejenis.
Penulis menjamin bahwa isi artikel adalah asli dan bertanggung jawab penuh atas hak cipta dari bagian-bagian yang dikutip dari artikel yang dari sumber asli lainnya.
Ketika penulis meng-upload artikel pada suatu website tertentu, penulis harus menjelaskan bahwa sumber artikel adalah Monas: Jurnal Inovasi Aparatur adalah pemegang hak cipta, dan harus membuat link ke situs jurnal: https://ejournal-bpsdm.jakarta.go.id/index.php/monas/