Coal mine management in East Kalimantan: a review of public policy
Devi Triady

Bappeda Provinsi Banten

Dewi Saraswati

Ilmu Perencanaan Pembangunan Wilayah dan Perdesaan, IPB University
Keywords:
coal mining, coal mining governance, institutional system strengthening
Abstract
The problems posed by coal mining in East Kalimantan have an environmental impact and an imbalance of economic growth with social development. In practice, mine management that does not meet the principles of good management, such as corrupt practices, uncontrolled mining permits, indicates the need for a particular study related to coal mining policies and regulations in East Kalimantan Province. Therefore, this paper is intended to analyze aspects of coal mining policy and regulation as well as policy implications to improve coal mining governance, especially in the perspective of preventing corruption in coal mining management in East Kalimantan. This research uses the desk study method with descriptive analysis of related literature related to coal mining management, especially in East Kalimantan. The results of this study indicate that the governance of coal mining in East Kalimantan needs to be improved in the context of Law Number 3 of 2020 concerning Amendments to Law Number 4 of 2009 concerning Mineral and Coal Mining through the application of natural resource management principles as well as the application of the concept of governance. , the need to improve policies and governance of coal mines (licensing, transparency, and law enforcement) and the need to strengthen the institutional system in the management of this mine.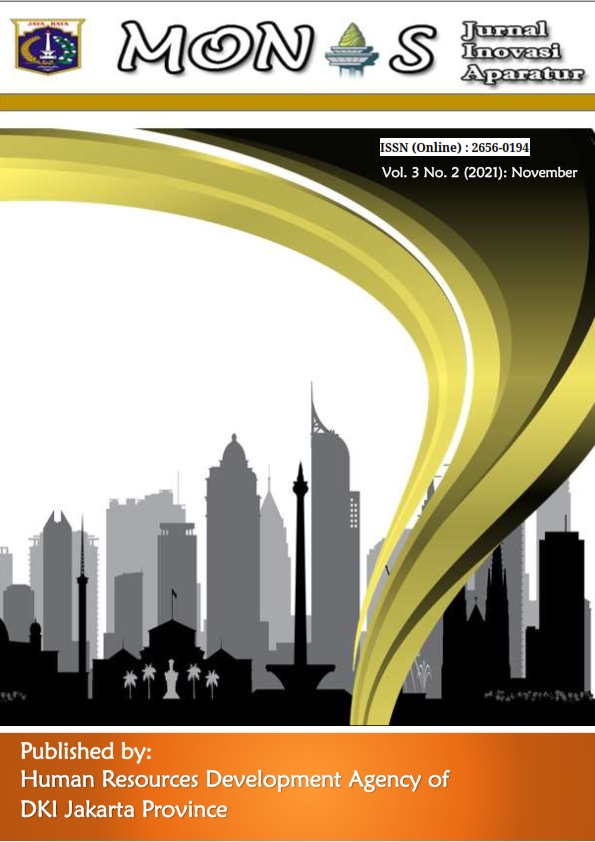 Copyright (c) 2021 Monas: Jurnal Inovasi Aparatur
This work is licensed under a Creative Commons Attribution-NonCommercial-ShareAlike 4.0 International License.
Penulis yang mempublikasikan artikel pada Monas: Jurnal Inovasi Aparatur ini setuju dengan ketentuan sebagai berikut:
Hak cipta dari suatu artikel akan ditransfer ke Monas: Jurnal Inovasi Aparatur ketika artikel diterima untuk publikasi. Transfer cipta mencakup hak eksklusif untuk mereproduksi dan mendistribusikan artikel, termasuk mencetak ulang, menerjemahan, reproduksi fotografi, mikrofilm, bentuk elektronik (offline atau online), atau reproduksi lain yang sejenis.
Penulis menjamin bahwa isi artikel adalah asli dan bertanggung jawab penuh atas hak cipta dari bagian-bagian yang dikutip dari artikel yang dari sumber asli lainnya.
Ketika penulis meng-upload artikel pada suatu website tertentu, penulis harus menjelaskan bahwa sumber artikel adalah Monas: Jurnal Inovasi Aparatur adalah pemegang hak cipta, dan harus membuat link ke situs jurnal: https://ejournal-bpsdm.jakarta.go.id/index.php/monas/