Strategy to respond gratification by identifying gift-giving to government employee
Lisa Nazifah

BPSDM Provinsi DKI Jakarta
Keywords:
corruption, civil servant, gratification
Abstract
Gratification often called as the root of corruption. Gift-giving is usually considered a common tradition that has been entrenched in community life in Indonesia. However, it should be confirmed that even the slightest gift to civil servants or state administrators can be considered as an act of bribery if the gift is related to their position and contrary to their obligations or duties. Numerous gratification practices that lead to bribery have still been found indicating the lack of understanding and intention of civil servants in addressing gratification based on the regulation applied. The study is performed using qualitative descriptive methods with a description of the topic related. Data collected by observing study group discussion at Diklat Prajabatan for a non-permanent teacher in DKI Jakarta year 2018. The identification of gratification can be self-performed by recognizing the motive of the gift-giving act using PROVE IT (Purposes, Rule, Openness, Value, Ethics, Identity, and Timing). Besides, the improved understanding of the rights and obligations as a public servant as well as the change of mindset would initially provide the capability for every civil servant and state administrators in addressing gratification wisely and applicably. The integrity of civil servants is an indicator of a clean and corruption-free government that leads to good and accountable governance.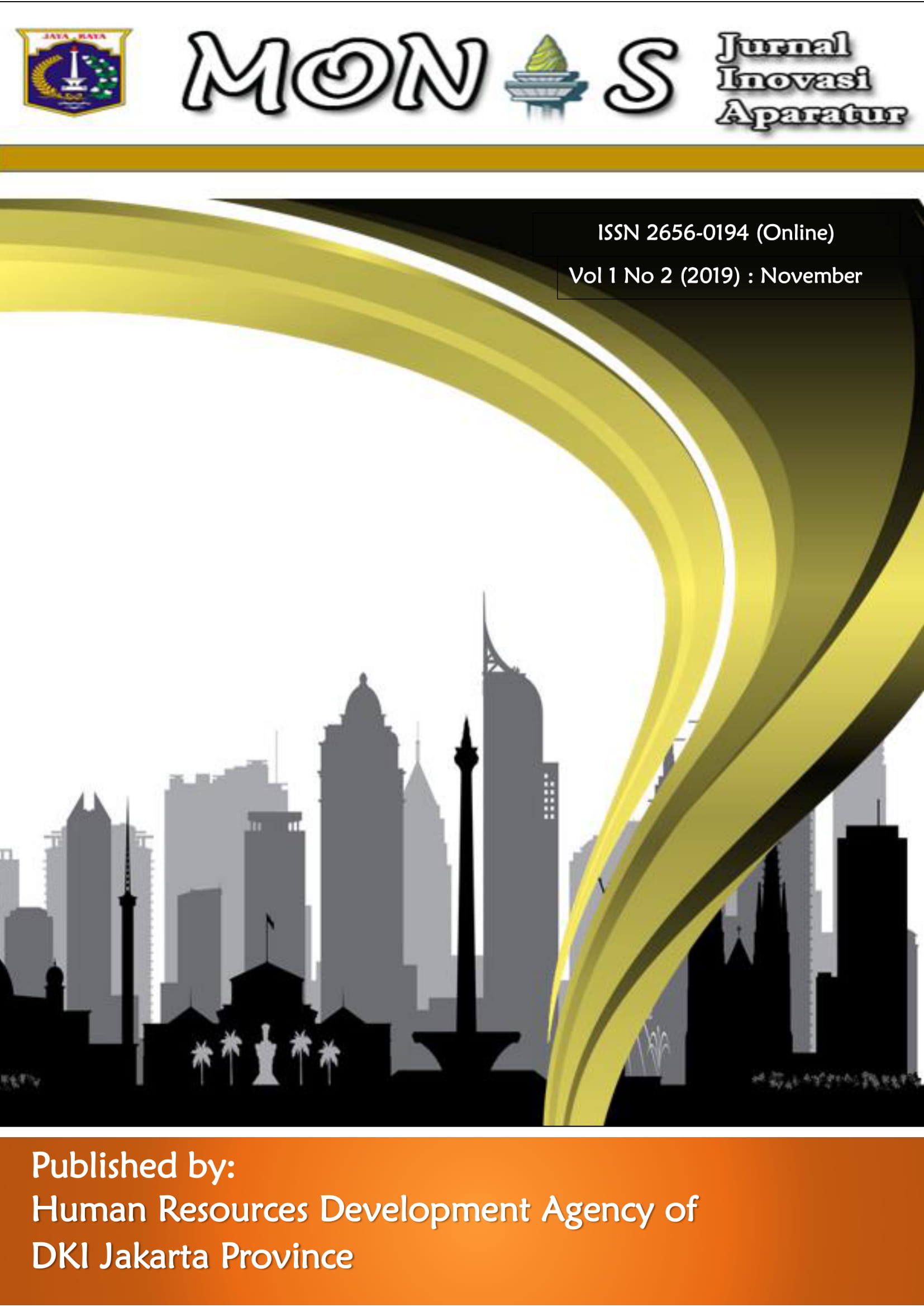 This work is licensed under a Creative Commons Attribution-NonCommercial-ShareAlike 4.0 International License.
Penulis yang mempublikasikan artikel pada Monas: Jurnal Inovasi Aparatur ini setuju dengan ketentuan sebagai berikut:
Hak cipta dari suatu artikel akan ditransfer ke Monas: Jurnal Inovasi Aparatur ketika artikel diterima untuk publikasi. Transfer cipta mencakup hak eksklusif untuk mereproduksi dan mendistribusikan artikel, termasuk mencetak ulang, menerjemahan, reproduksi fotografi, mikrofilm, bentuk elektronik (offline atau online), atau reproduksi lain yang sejenis.
Penulis menjamin bahwa isi artikel adalah asli dan bertanggung jawab penuh atas hak cipta dari bagian-bagian yang dikutip dari artikel yang dari sumber asli lainnya.
Ketika penulis meng-upload artikel pada suatu website tertentu, penulis harus menjelaskan bahwa sumber artikel adalah Monas: Jurnal Inovasi Aparatur adalah pemegang hak cipta, dan harus membuat link ke situs jurnal: https://ejournal-bpsdm.jakarta.go.id/index.php/monas/