Reactivation and transformation of subsidized food program during the covid-19 pandemic
Azwar Anas

Biro Perekonomian dan Keuangan Setda Provinsi DKI Jakarta
Keywords:
subsidized food program, welfare, poverty
Abstract
The COVID-19 pandemic has reduced the welfare of the people of Jakarta. This can be seen from the increase in the number of poor people in Jakarta from 365.55 thousand people (2019) to 498.29 thousand people (2021) and the increase in the Gini ratio from 0.391 (2019) to 0.411 (2021). Government policies during the pandemic generally focus on distributing social assistance and assisting micro, small and medium enterprises, even though there are other policies such as subsidized food program. Research on subsidized food program is important to understand the implementation of policies to reduce poverty and improve people's welfare. This study aims to provide an explanation of the reactivation and transformation of the subsidized food program in Jakarta. The method used to answer the research is through literature studies and policy implementation in the field. The results showed that the reactivation of the subsidized food program was carried out as part of the social safety net policy to meet the food needs of certain communities, such as students from poor families, elderly and persons with disabilities who cannot fulfill their basic needs. The target beneficiaries are around 1 million people in 2021 and 2022. The registration mechanism is undergoing a transformation from an offline system to a combination of offline and online system. The distribution mechanism uses daily quotas and applies health protocols. There will be an increase in the value of the 2021-2022 subsidy from Rp. 246,800/person or 66% of the total food price to Rp. 268,500/person or 68% of the total food price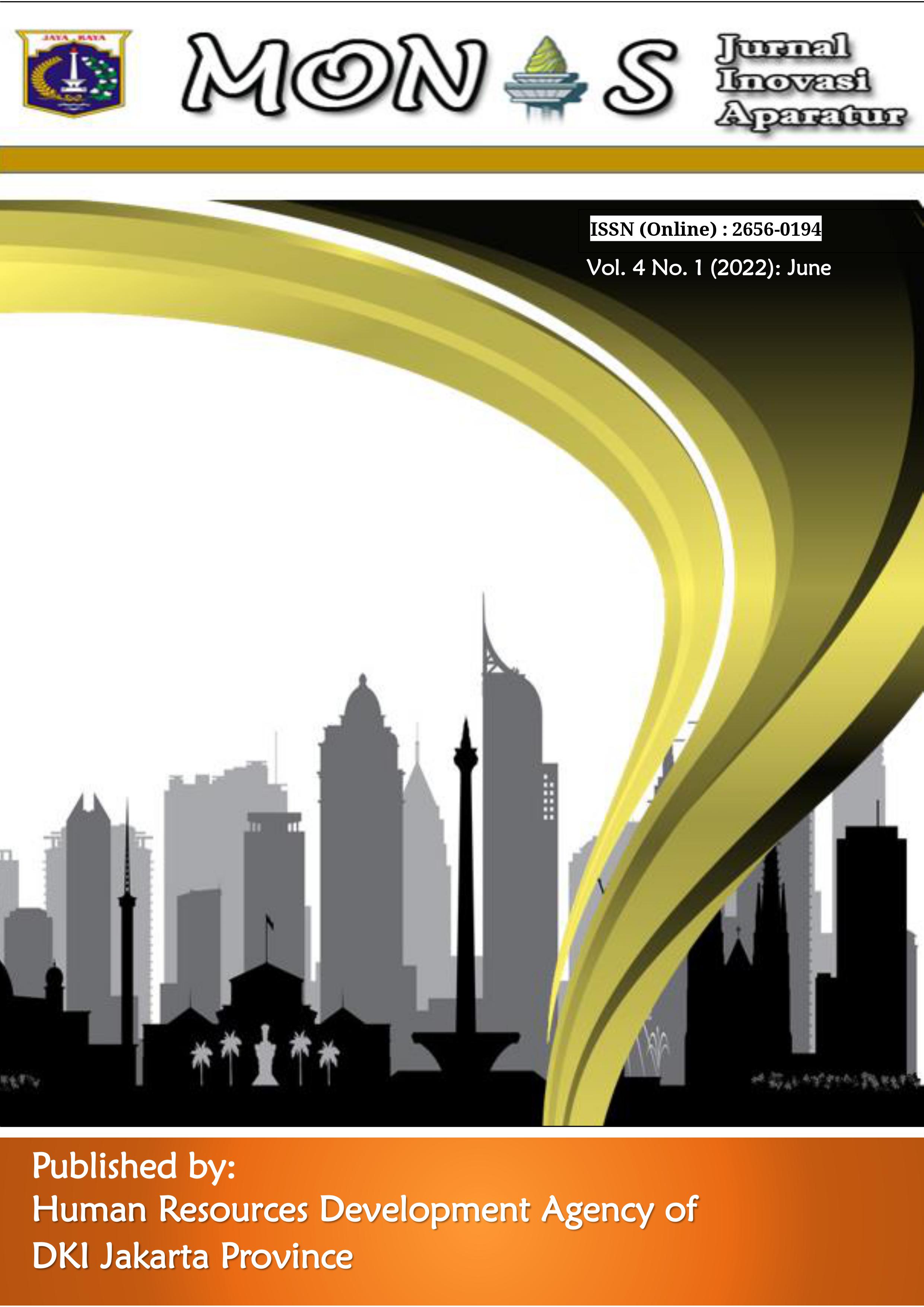 Copyright (c) 2022 Monas: Jurnal Inovasi Aparatur
This work is licensed under a Creative Commons Attribution-NonCommercial-ShareAlike 4.0 International License.
Penulis yang mempublikasikan artikel pada Monas: Jurnal Inovasi Aparatur ini setuju dengan ketentuan sebagai berikut:
Hak cipta dari suatu artikel akan ditransfer ke Monas: Jurnal Inovasi Aparatur ketika artikel diterima untuk publikasi. Transfer cipta mencakup hak eksklusif untuk mereproduksi dan mendistribusikan artikel, termasuk mencetak ulang, menerjemahan, reproduksi fotografi, mikrofilm, bentuk elektronik (offline atau online), atau reproduksi lain yang sejenis.
Penulis menjamin bahwa isi artikel adalah asli dan bertanggung jawab penuh atas hak cipta dari bagian-bagian yang dikutip dari artikel yang dari sumber asli lainnya.
Ketika penulis meng-upload artikel pada suatu website tertentu, penulis harus menjelaskan bahwa sumber artikel adalah Monas: Jurnal Inovasi Aparatur adalah pemegang hak cipta, dan harus membuat link ke situs jurnal: https://ejournal-bpsdm.jakarta.go.id/index.php/monas/