Collaborative governance in increasing the competitiveness of Micro Small Medium Enterprises (MSMEs) through the Jakpreneur program
Alif Salsabila Katya

Universitas Indonesia

Saraswati Saraswati

Biro Perekonomian dan Keuangan Sekretariat Daerah Provinsi DKI Jakarta
Keywords:
Collaborative Governance, Competitiveness, Jakpreneur, MSMEs, Community Empowerment
Abstract
Based on the 2016 Economic Census, the number of businesses in DKI Jakarta has reached more than one million businesses, or 98.78%. The potential of MSMEs is able to reduce the unemployment rate and can drive the wheels of the Indonesian economy and DKI Jakarta specifically. However, in the current conditions, MSMEs in DKI Jakarta still have many limitations in terms of management and empowerment. Therefore, the DKI Jakarta Provincial Government created the JakPreneur Program to help MSMEs advance to class to be competitive and maintain their business. The DKI Jakarta Provincial Government embraces stakeholders to collaborate in developing the JakPreneur Program. The purpose of this study is to describe precisely the process and form of collaboration through the approach of collaborative governance in the JakPreneur Program and provide recommendations for program improvement. This study used a post-positivist approach with a qualitative method through interviews and literature study. The results of this study indicate that the collaboration process takes place effectively between the relevant stakeholders. The collaboration formed in this context is represented by implementing a number of activities from the P1-P7 stages of the JakPreneur program.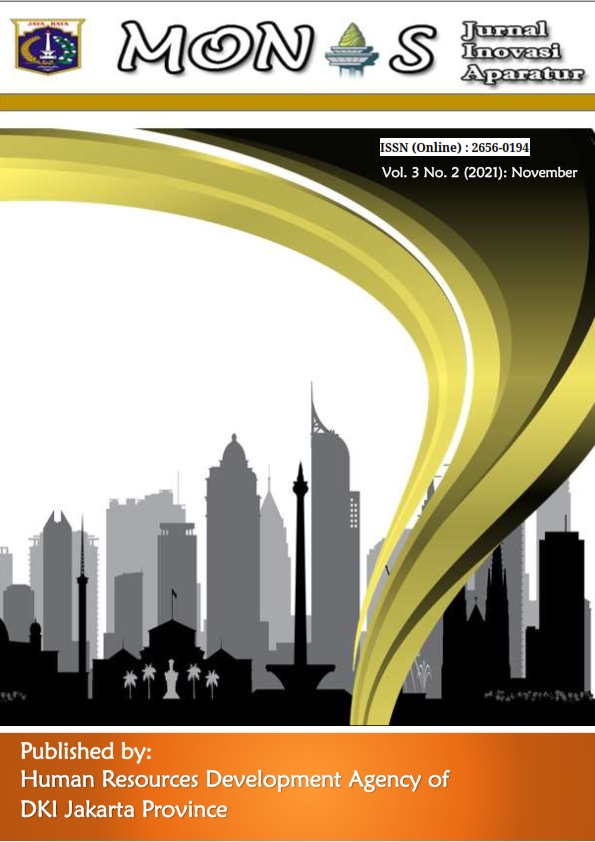 Copyright (c) 2021 Monas: Jurnal Inovasi Aparatur
This work is licensed under a Creative Commons Attribution-NonCommercial-ShareAlike 4.0 International License.
Penulis yang mempublikasikan artikel pada Monas: Jurnal Inovasi Aparatur ini setuju dengan ketentuan sebagai berikut:
Hak cipta dari suatu artikel akan ditransfer ke Monas: Jurnal Inovasi Aparatur ketika artikel diterima untuk publikasi. Transfer cipta mencakup hak eksklusif untuk mereproduksi dan mendistribusikan artikel, termasuk mencetak ulang, menerjemahan, reproduksi fotografi, mikrofilm, bentuk elektronik (offline atau online), atau reproduksi lain yang sejenis.
Penulis menjamin bahwa isi artikel adalah asli dan bertanggung jawab penuh atas hak cipta dari bagian-bagian yang dikutip dari artikel yang dari sumber asli lainnya.
Ketika penulis meng-upload artikel pada suatu website tertentu, penulis harus menjelaskan bahwa sumber artikel adalah Monas: Jurnal Inovasi Aparatur adalah pemegang hak cipta, dan harus membuat link ke situs jurnal: https://ejournal-bpsdm.jakarta.go.id/index.php/monas/